Underwear shop design ideas and images
What can we offer for clothing interior shop design?
1.Our designers and sales staff can go to your store to make size measurements
2.We can provide free design for your floor plan.
3.We provide on-site installation services including going abroad.
4.The displays can be customized by any style,any size,any color,any materials,any craft,fitting your project.
5.Our packing are strictly according to the International standard to ensure delivery to your destination without any damage.
6.Our designers can take a sketch to a 3D SolidWorks model or live prototype quickly.We can offer performance and durability testing,3rd party certification and field testing to further ensure the compliance and performance meet your requiment.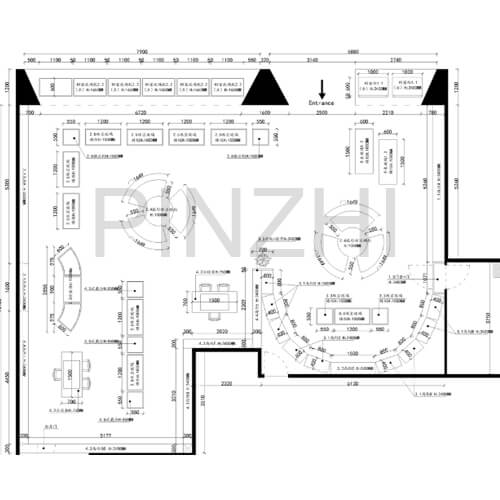 The process of conceptualizing an idea into a product is the fundament of product design. It brings distinctions on a competitive market.
Mastering digital tools allow us to communicate, product concept, 2D concept, 3D rendering, and technical drawings to quickly analyze, visualize and actually produce tangible ideas at an early stage.
Our service provides several layers of communication, from creating a logo, illustrations, graphic design for digital or print to the final press release. More than just simply serving what you asked, we will always share our experience over the years and creative ideas from our team of designers. We want our expertise leveraging your product and consequentially your company itself.
(PS: If you don't have shop layout floor plan, we can free design shop layout floor plan for you!)
3d draws

Since 2003, Pinzhi Display from a small workshop to a factory with 2,000 square meters and more than 100 workers. We step by step to improve the department of our factory, now we have following workshop: carpentry workshop, polishing workshop, fully enclosed dust-free paint workshop, hardware workshop, glass workshop, acrylic workshop, assembly workshop, warehouse, factory office and showroom.
Before shipment we to clean every storefront, pearl cotton packing, the side impact protection, with thick foam packing, closed nailing solid wood packaging, final mechanical loading shipment.
Transport: we also provide sea, air, one-stop service.
(PS: No matter how big your store is, where your country is, as long as you need us, we can provide on-site install guidance!)
We are

Outlets

partners
We partner with Outlets and there are three types in total, one of which is the clothing shop design and production.
These are our design draws, including men's and women's.
And we can provide install service, all-in-one shop service.
The most important is we can provide real factory price with high-quality display showcases and shelves, so we can become your sincere partner.
Whether you are customize stand-alone display showcase or ready to open a new store, we can tailor the best implementation plan for you.
PINZHI DISPLAY, help you build up your brand!
PINZHI DISPLAY–Build Up Your Brand
We are PINZHI DISPLAY, showcase manufacture from China, established in 2003 with more than 15 years of production experience!
Our factory and company are located in a modern metropolis in Guangzhou, China. We are the showcase manufacturer, mainly engaged in jewelry showcases, watch showcases, cosmetics showcases, clothing showcases, glasses showcases, supermarket display shelves and digital showcases, etc. Our factory There are 200 experienced workers, advanced production machines and 10,000 square meters of factory buildings. Our company has a large number of sales staff, they are strictly selected, good service attitude, high professionalism, and sales talks with our company, you I will feel more comfortable and rest assured than ever before.
Here we are going to introduce our design department, our company has 5 experienced designers. Professional strength, efficiency, and design style innovation trend. According to the data survey, our design drawings can be completed in an average of 2.3 days, and the customer satisfaction level is 98.6%.